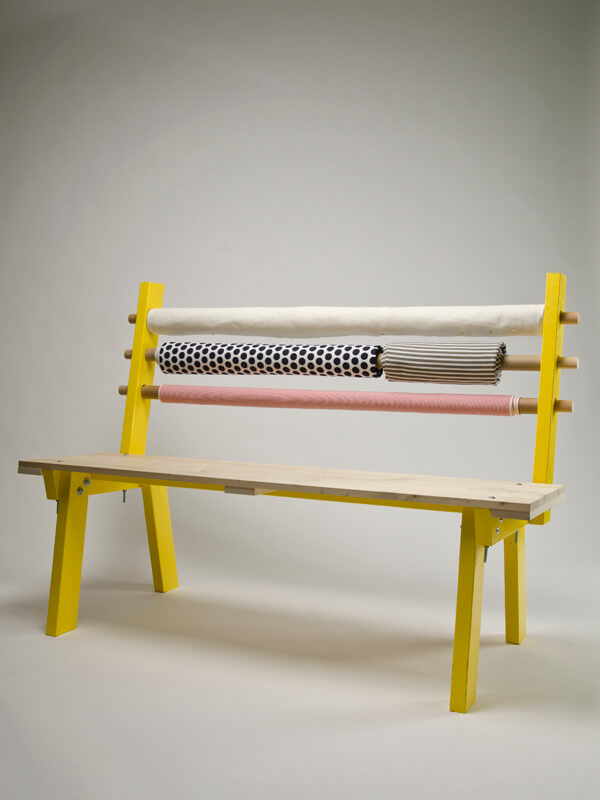 Bolt Bench
Year: 2013
Materials: Wood, fabric
Client: Self-Initiated
Our favourite designs always have multiple functions, a dose of humour and the potential for interaction. These were our parameters when we designed a bench for our new studio space.

The Bolt Bench is a comfortable seat, as well as storage for a few fabric or paper bolts that work as an upholstery alternative. The material is easily accessible and replaceable when used up or if we are in need of a change of scenery.
Photos by Nenad Stevanovic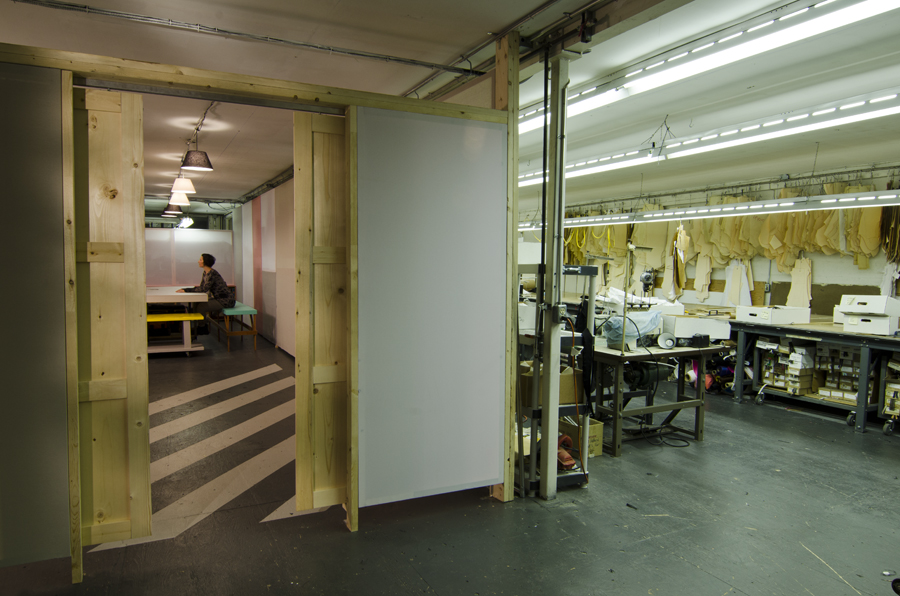 Dear Human Headquarters
Year: 2013
Materials: Mixed Media
Client: Self-Initiated
Finding a decent artist studio space in Vancouver, Canada, one of the most expensive cities in the world, is not an easy task. So when the opportunity came to create one in a local garment factory, we jumped.

The space came with a few design challenges/requests: 1) hosting the only heater throughout the whole space, we needed our partition to allow airflow throughout. 2) Allow the natural light of the North facing windows to filter through to the front of the space. 3) The artists' limited budget (that in the end did not exceed $2000 in material and renovation costs).

The design solution that we came up with to solve all three of these challenges are fabric space dividers, suspended from the ceiling down the length of the studio and fixed to the entrance structure in the front, such that they can easily be repaired or taken down individually as needed.

The interior space is organized into an office/show room and a working area, visually delineated by the painted flooring. The office is located in an area between two doors that would otherwise be dead space, one to an air compressor closet and the other an emergency exit. The space and office furniture was also designed for lounging and frequent snacking. Tables in the working area are all custom built and can be arranged in several configurations, depending on the needs of the projects being done. Fortunately, the fluorescent lights were removed from the space previously, which gave us a blank slate to improvise rows of soft lighting.
Photos by Nenad Stevanovic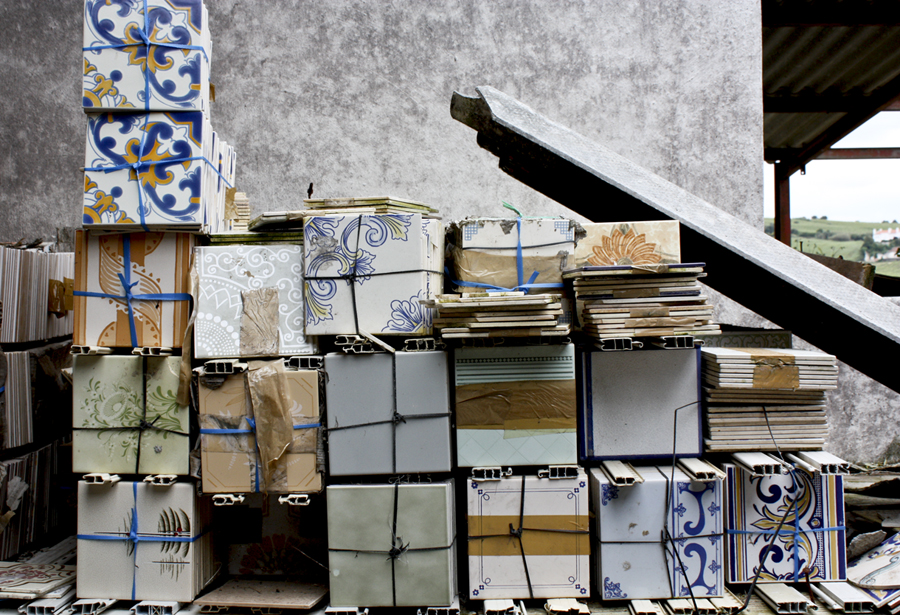 Patchworked in Canada
Year: In Progress
Materials: Reworked Discontinued and Antique Tiles
Client: Sponsored by Canada Council for the Arts
Patchworked in Canada is a wall installation of 1200 Portuguese ceramic tiles, repurposed and arranged into a blanket of color and pattern. After being shown at Toronto Design Offsite festival's official hub in January 2014, the individual tiles will be fragmented and dispersed throughout the cities of Toronto, Montreal, and Vancouver as urban interventions.

A patchwork is just what this ambitious project has been for us—Funded by Canada Council for the Arts and in development now for over two years, there have been lots of twists and turns in its making. When we decided that we would create this project by reusing existing industrial materials, we thought right away of faraway Portugal, the pinnacle of architectural tile. For us, with fondness and extensive backgrounds in ceramics, spending time in exploration there was something of a ceramic paradise. We loved the idea of bringing this material, common and in abundance there, to the Canadian landscape where it transforms into tiny bits of treasure for observant passersby to take home. The search for these small offerings is an open invitation to explore and play.

Each 6" square tile has been cut into quarters and will have a magnet on the back of it along with a scannable QR code that will direct the finder back to the overall image of the patchwork and the origins of the tiles. A number of the tiles have been refired with layers of our imagery overtop. In the urban landscape on dumpsters, poles and metal walls, the tiles will stand out as unlikely bursts of color. Similar to a smaller previous project called Finders Keepers, lucky finders will be encouraged to post and share images of where they found their pieces.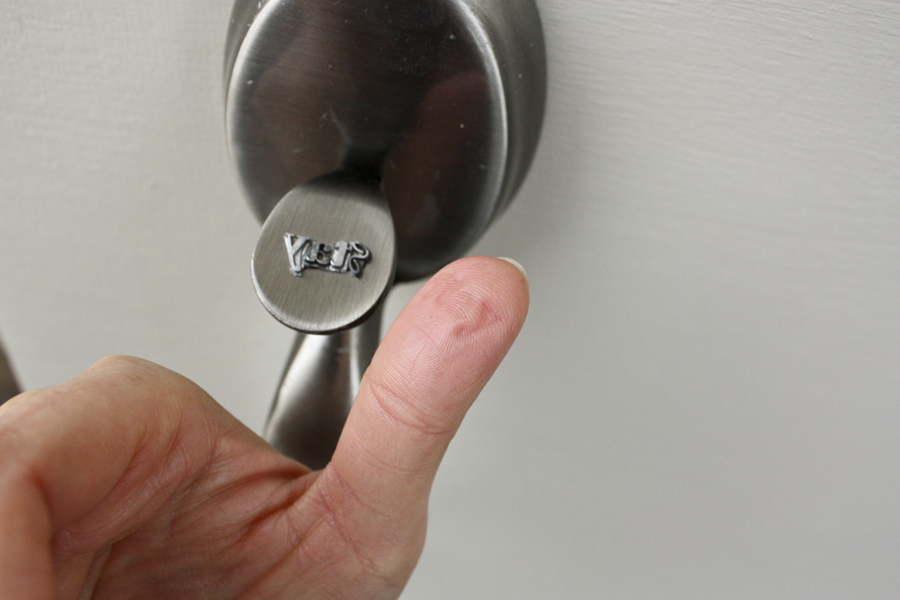 Pause at the Threshold
Year: 2013
Client: Self-Initiated prototype
Pause at the Threshold is about the potential of everyday objects provoking a moment of pause during our day--each mundane interaction is an opportunity for unexpected discovery. Our necessary relationship with the door handle makes it a perfect place for our post-it notes and letters we need to send—and for a secret reminder to STAY.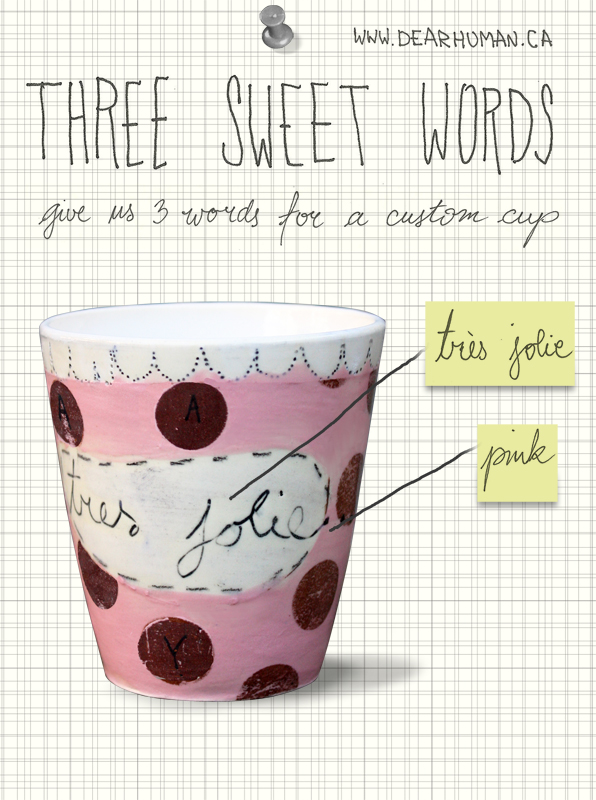 Three Sweet Words
Year: In Progress
Materials: Ceramic Cups
Client: Self-Initiated
In the past year we made some major changes in our art practice, moving studios and switching work from a primarily ceramic-object based practice to project based work, not focusing on a specific material but using the most appropriate one in the given moment.

All that said, with such projects (especially funded ones) not so easy to come by, while applying for some and working on self-directed others, we decided to do the Three Sweet Words project to help the transition. With a limited edition of 300 cups, it is a bit like a mini- commission and a self-made kickstarter in one!

What we need are you, who like our work and like to drink from hand made cups!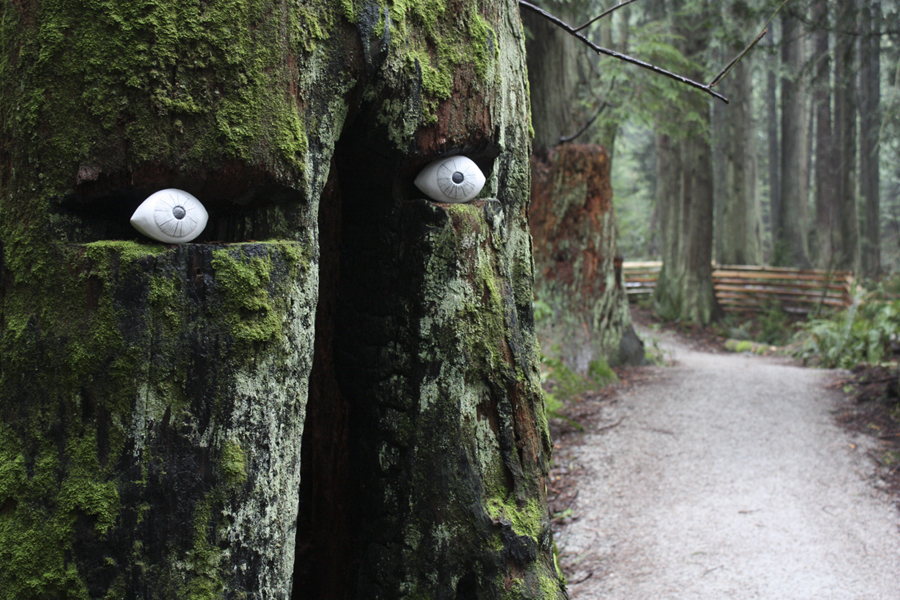 Sentinels
Year: 2013
Client: Self-Initiated
There is a part of the forest we visit regularly where there was once a grove of grand Douglas firs. They were probably cut over a century ago--the technique for cutting these giants back then was to chop wedges into the trees and embed horizontal planks to stand on so they could cut above the root line. What remains are eerie empty eye sockets that longed for an intervention. We gave these sentinels of the forest a second life with some fine porcelain peepers.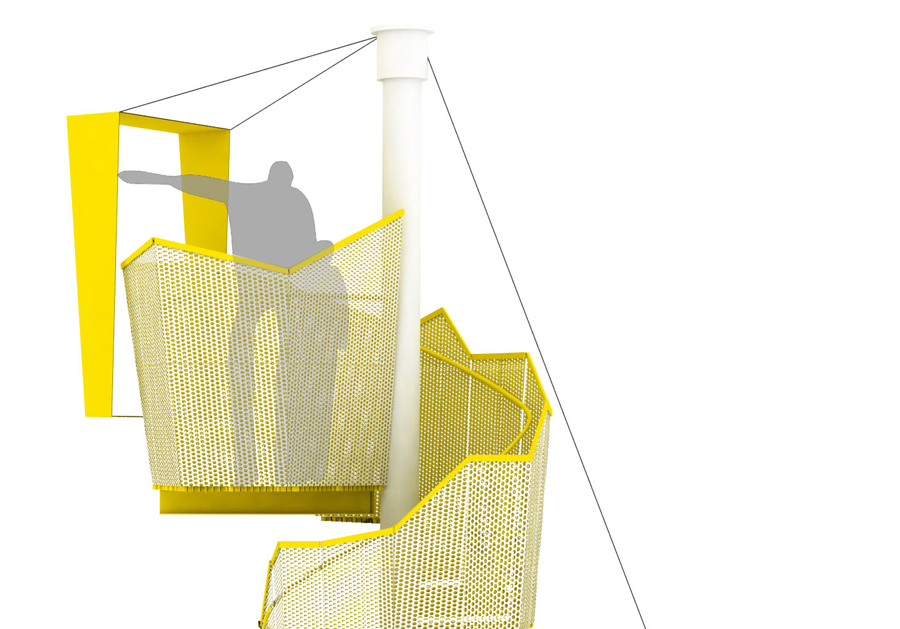 RISE ABOVE
Year: 2013 Shortlisted Proposal
Materials: Steel and Mixed Media
Client: City of North Vancouver, Spirit Trail
RISE was a shortlisted proposal in collaboration with Measured Architecture for the City of North Vancouver's Spirit Trail.

The Londsdale Quay site was a dynamic one that prompted us to focus on an intervention with strong visual connectivity to the primary route of the Spirit Trail. This brings travelers to a tributary line, provides a unique identity of place for those awaiting pick-up at the turnabout, and offers a potential engagement with an object as a device that orientates the traveler on the trail and to the city context beyond.

Aside from the intervention's primary role as a beacon and marker, we saw it as an opportunity to rise above the pedestrian level, obstructed by the surrounding developments and fencing, and reveal a dramatic view of the sea and mountains to the north and the city to the south.

As a nodal of several converging paths, our design was an orienting device that addressed each of these: As a drop-off point for thousands of daily commuters and travelers, a resting point, meeting point, and shelter. As an entry point for the visitors of the Spirit Trail, a trail-marker and key point of reference of the route. For pedestrians walking to and from the Waterfront Park and along the quay, it was a viewpoint free of obstruction.

One of the key parameters given in the call for this project was that the piece be something that perpetuates interest over many visits. We designed a structure that would beautify the landscape and reference nearby maritime structures, but it is the landscape itself that people are coming to the Spirit Trail to see and maintains their continued interest.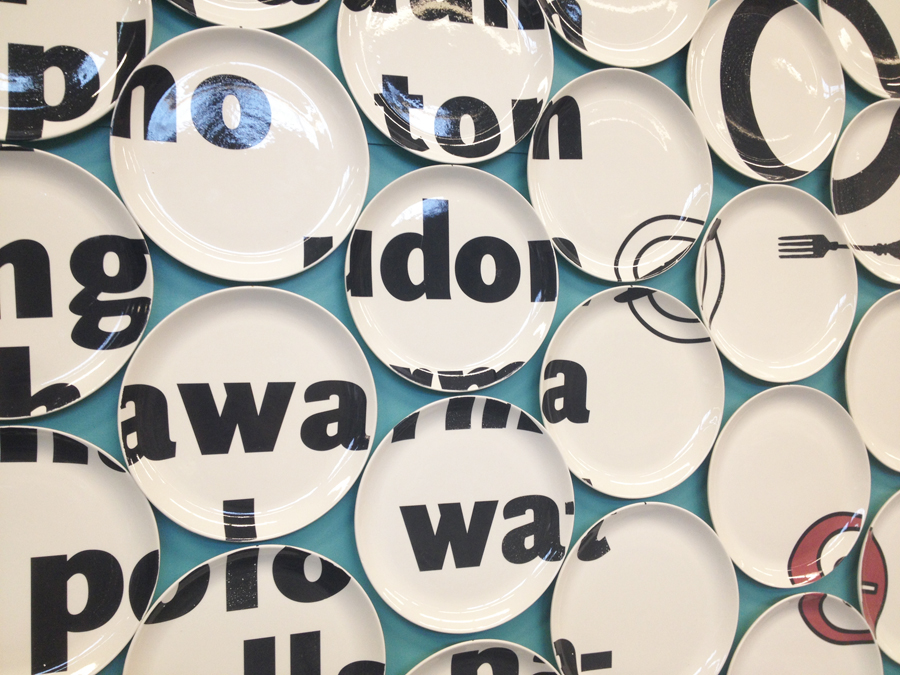 Dinner With Neighbors
Year: 2012
Materials: Antique factory blank dishware
Client: Vancity Credit Union
Dinner with Neighbors was commissioned by the local credit union, Vancity, as the two-story centerpiece for their prototype branch in South Burnaby. Well-respected in Vancouver and also very dedicated to community building, Vancity was a pleasure to work with on this project.

Each community no matter its size, race or creed has a tradition of food. This was the unifying subject we chose for the diverse community of South Burnaby. Superimposed onto a dishware canvas, we created the image of a long banquet table in mid-meal. The center of the table is an assortment of foods representing the specialty dishes of the many ethnic groups that make up South Burnaby.

The plates, acquired from the now defunct Hycroft China Ltd., have been lying dormant since the factory closed in the late 1980s. It has been a rewarding experience digging them out of piles, dusting them off, and breathing new life into them. Hycroft in its heyday was a prominent Canadian manufacturer of industrial ceramic wares. Now it is a part of Medalta and the Historic Clay District in Medicine Hat, Alberta where it has been restored and preserved as an historic landmark.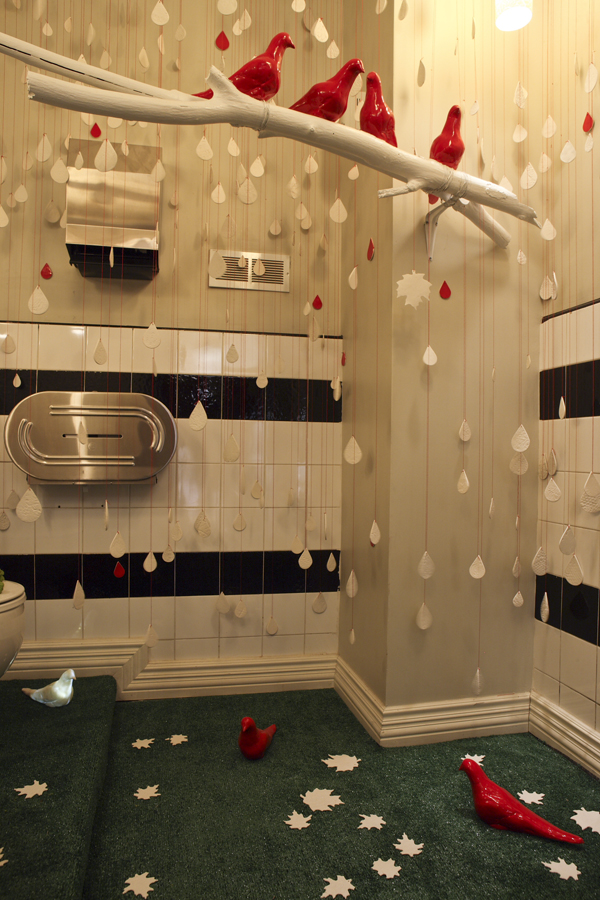 After The Rain (Come Up To My Room)
Year: 2009
Materials: Ceramics and mixed media
Client: Gladstone Hotel--Come Up To My Room event
After the Rain was a collaborative piece with Laura McKibbon for the annual exhibition, Come Up To My Room at the Gladstone Hotel in Toronto, ON. Artists are invited to transform the empty rooms of the hotel into dramatic experiences for the viewers. The installation consisted of a variety of ceramic objects, including over 300 ceramic raindrops, several pigeons, and porcelain lights. Photos by Lorne Bridgman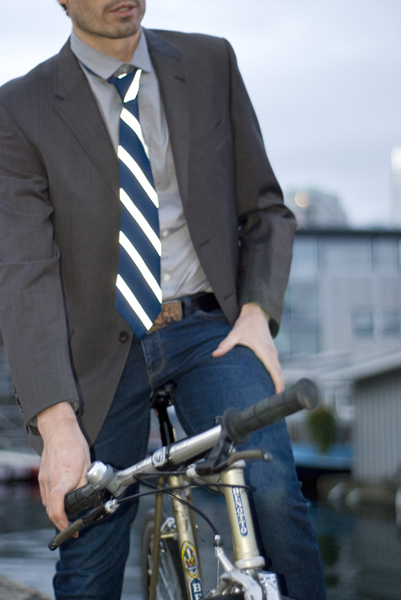 Retroreflective Tie
Year: 2010
Materials: Silk, retroreflective material
Client: Self-initiated
This tie was our reaction to the high visibility clothing offered on the market at present, the majority of which is strictly functional, with little or no attention to style or playfulness. Though understated during the day, the tie becomes highly visible in the evening. It was one of the shortlisted design entries from more than 3000 participants in a recent
DESIGNBOOM
competition, 'Seoul Cycle Design Competition 2010', organized in collaboration with Seoul design foundation.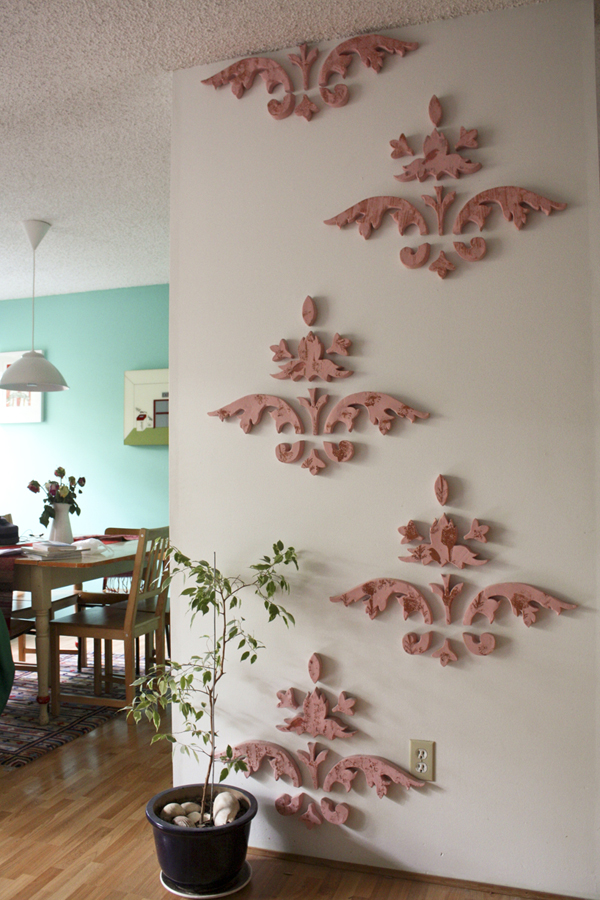 3D Wallpaper
Year: 2010-2011
Materials: Molded ceramic parts
Client: Gudrun Tasting Room
The idea behind 3D Wallpaper is to address interior space as a whole, activate entire walls as canvasses, and to extend our spatial awareness into forgotten corners.

Our prototypes led us to creating this interior piece for our friend Patrick Tubajon's Gudrun Tasting Room in Steveston. We admire him for his locally sourced foods and his thoughtful interiors, made using high-quality recycled and custom-built elements. In following with his ethos of operating locally, he is also a supporter of local artists and selected us to put some finishing touches on the west wall of the restaurant. Drawing from a pattern on a custom glass partition at the bar, we carried it over onto the wall with a 3D wall pattern of screen-printed terracotta crosses.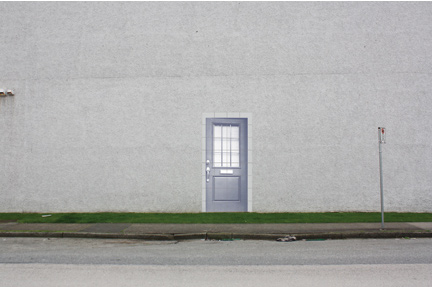 Doors/Windows
Year: 2013-In progress
Materials: Ceramic tiles, custom decals
Client: Self-initiated
This project is a response to blank concrete surfaces all over the city. Fake windows and doors are positioned onto walls as a reminder of human scale and to evoke a sense of magical curiosity. These will be full color decals on porcelain tiles.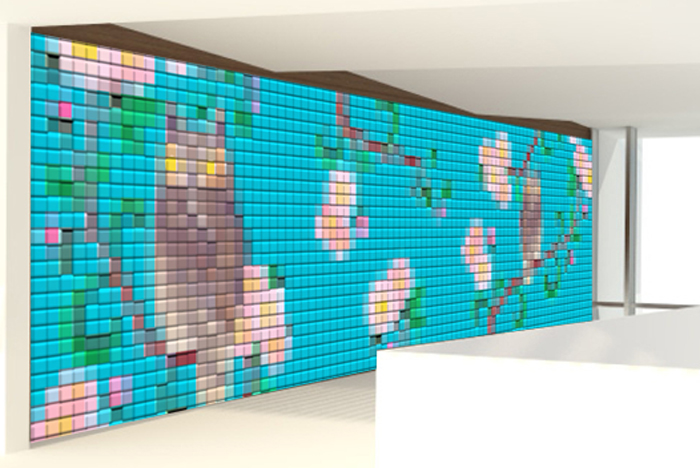 Albertan Story
Year: 2012 (Proposal)
Materials: Commercial tiles, custom decals
Client: Mill Woods Senior Centre and Multicultural Facility, Edmonton, AB
This tile mosaic was proposed for a multi-cultural and seniors' center in Edmonton, AB. We based the imagery on old embroidery patterns of Alberta's provincial bird and flower, the owl and the wild rose. Beyond the aesthetics of the piece and with consideration to its location, the mosaic relates numerous stories from the lives of diverse Albertan individuals through QR codes that are subtly imbedded throughout the image, leading viewers to a custom multi-media website.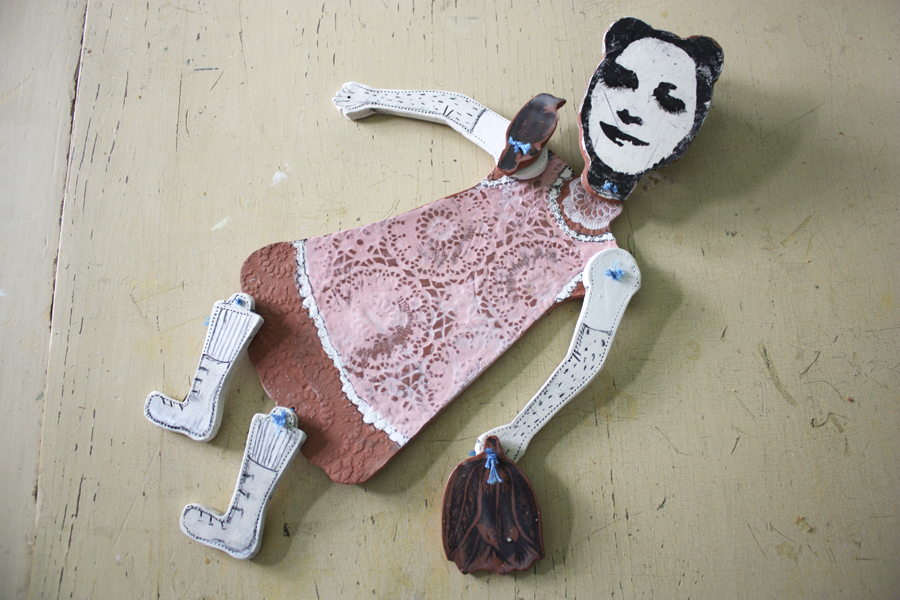 Studio Practice
Our bigger ideas often start from humble beginnings—We both have a long history of working with ceramics and maintain a continuous studio practice that feeds into our larger projects. We have an unconventional approach in our use of imagery and ways of making in the medium. Both of us tend towards working narratively and intuitively and often collaborate on smaller scales as well.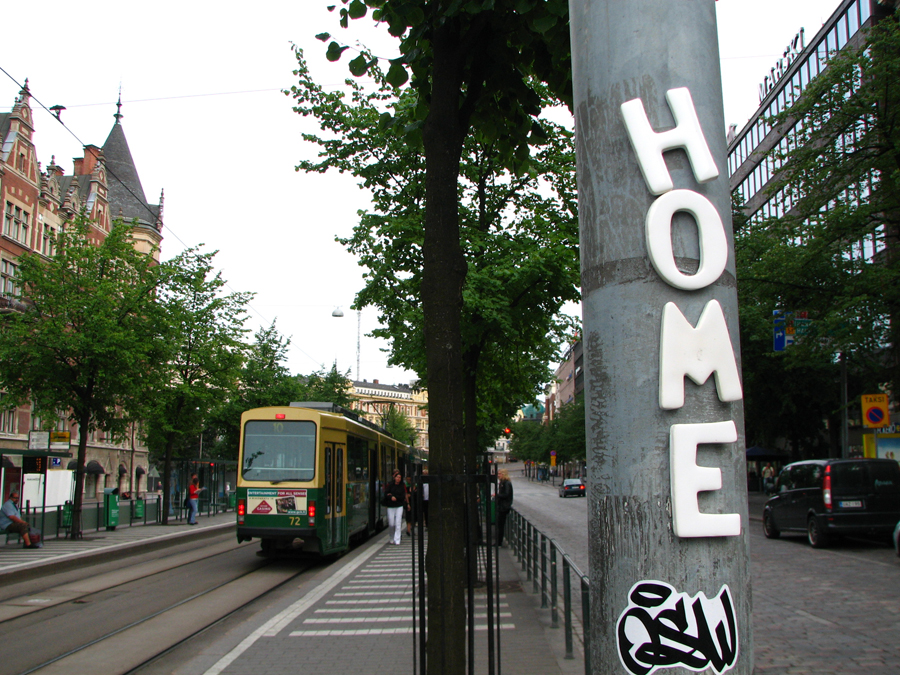 Home Project
Year: 2011
Materials:Ceramic letters, magnets
Client: Self-initiated
In collaboration with Finish artist, Henriikka Leppänen, who came to do a two-month internship with us in 2011, we tagged the streets of Vancouver and Helsinki with the magnetic ceramic letters HOME. For us it was a reflection on the meaning of home, with Noel's Canadian permanent residence having been granted earlier in the summer and our roots growing deeper. We placed them along our familiar pathways in Vancouver, as did Henriikka in Helsinki. We wanted to beautify the city with a gesture that would have a second life as a gift for those who discover that the ceramic graffiti tags could be easily removed.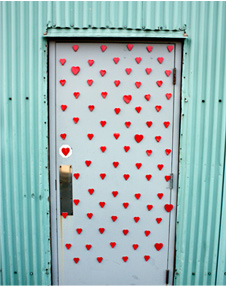 Finders/Keepers
Year: 2011
Materials: Ceramic hearts, magnets
Client: Self-initiated
Over 300 hand made ceramic hearts were dispersed across Granville Island in Vancouver, for passersby to pick them up. Those who found them, kept or gave them to loved ones. Each tag had our web address and many of the finders left comments and sent photos. The project launched on Thursday, February 11th and by the end of the weekend all of the tags were gone. This project has led us to receive a Canada Council project grant for 2013 to execute a similar project on a much grander scale. Stay tuned!
Secret Spaces
Year: 2009 - present
Materials: Ceramic, mixed media
Client: Private residences and at-large in the world
One of the things that drew us together was our mutual love for clandestine artistic interventions. This has evolved into the occasional practice of implanting secret sculptures out in the world. In the urban environment, they are surprises for passersby to discover (or destroy), while in interior spaces, they are secret possessions of the home owners.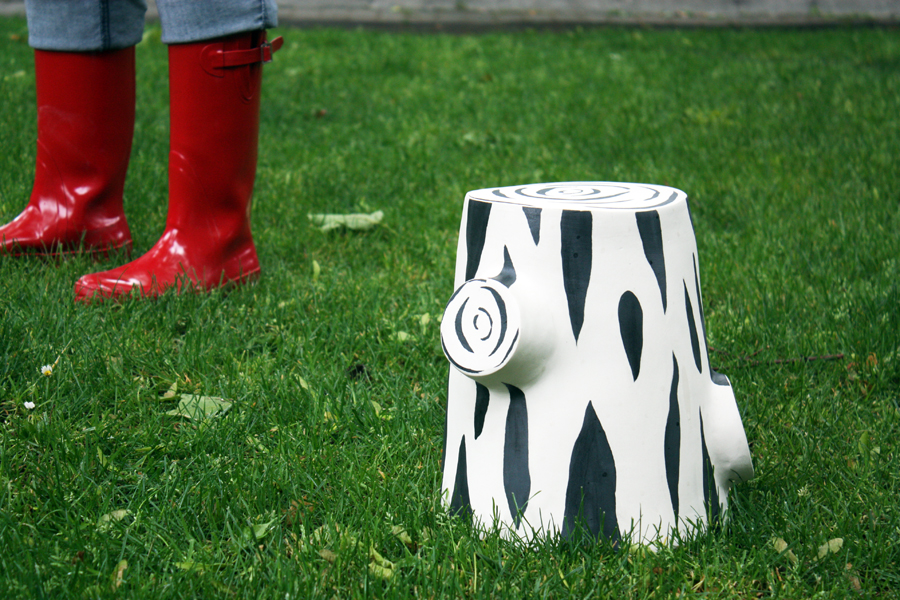 Stump Stools
Year: 2010 These stumps stools were an off-shoot of one of our early collaborations together. While doing a residency in the Banff Centre in Alberta, we created a body of work called: A Growing Feeling of Dismemberment. It focused on the pine beetle infestation spreading across the west of North America. The extensions we made were meant to be prosthetic "limbs" for the tree stump victims of the beetle scourge. We loved the look of the stumps so much that we made these 3D illustrations for the home. Babies love them.